Mansion Poker's Multicurrency Options Make for Big International Play
Mansion Poker's Multicurrency Options Make for Big International Play
Giorgio | Netherlands | Wednesday August 11 2010, 17:14 | 0 Comments
Mansion Poker, one of the latest poker sites on Poker Bonus Help, has a comprehensive selection of multi-currency options that make for big time poker action across continents from ocean to ocean, and mansion to mansion.
Mansion Poker uses what it calls 'table level' chip conversions in order to always display your deposits and withdrawals in your own currency. Mansion Poker will also automatically convert a portion of your real money balance to the standard currency, or US dollars, based on the current applicable exchange rate at that time anytime you join a ring game or poker tournament.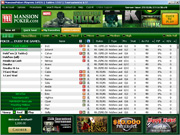 Mansion Poker Lobby


In the Mansion Poker lobby, you will see buy-ins for the various tables and tournaments you have to choose from. When you point your mouse's cursor over any of these buy-ins for tables or tournaments you're considering joining, you'll see a box appear notifying you that your currency is different from the one used in the buy-in (US dollars). That box also contains a link to a thorough explanation of how to use the Mansion Poker multi-currency feature to convert your balance into the necessary currency.
This allows you to know in your own currency how much you'd be spending to enter a tournament or table. And even though when you sit at a ring game, your chip balance is shown in the standard US dollars, anytime you wish to purchase more chips, you'll be able to see what you'd be spending in your own currency so you can make a clear and informed (and responsible) decision. Then, when you exit the ring game, you'll see your chip balance converted back into your own currency.
For poker tournaments at Mansion Poker, you'll see the buy-ins displayed in both the standard US dollars and your own currency, for your convenience. Rebuys and add-ons are displayed similarly, showing you exactly how much it would "really" cost you (in your own currency) to rebuy or add-on. Tournament prizes won by players for whom US dollars are not native currency will be displayed in both US dollars and the prize winner's currency.
No comments have been submitted thus far.