Titan Poker Bonus
Titan Poker Bonus Code
Titan Poker Bonus: 200% up to $2,000 + $20/$50 free
Days to clear Titan Poker Bonus: 90 days
Minimum deposit to qualify: $10
Titan Poker Bonus Code: PFF2000
On your first deposit you will receive $20 free, or $50 free, paid instantly (*), which you can use as soon as your account is credited! As well, you will also benefit from a 200% first deposit bonus up to a whopping $2,000 when using bonus code PFF1000 (yeah, that's the correct one for $2K) when making your first deposit. To give you an idea about our improved bonus, the regular bonus advertised on the Titan Poker website is only 50% up to $200.
The Titan Poker Bonus will release in increments of $5 for ever 600 Titan Poker Points earned. You will earn Titan Poker Points while playing at cash game tables, tournaments and SNG's. More information about this can be read below under the Loyalty Program details.
* Your Titan Poker account will be credited with the instant bonus after verification of your registration, which may take up to 72 hours
You will earn 17 Titan Poker Points per $1 fee when paying the entry fee in multi table tournaments (MTTs) and Sit 'n Gos (SNGs).
Your Titan Poker bonus will expire 3 months after the first deposit has been made.
For example, if you make a first deposit of $100, you will receive:
$150 (your deposit + free $50 instant bonus)
$200 bonus paid out in increments of $5 (200% of your $100 deposit)
In case you make a first deposit of at least $20, you will get $20 to play free poker with on top of your first deposit. Better yet, if you deposit $50 or more (which you should because you giving up your first deposit bonus would be a shame) you will be granted an instant bonus of $50.
Titan Poker Loyalty Program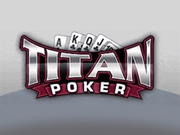 Titan Poker VIP Club rewards you with a Titan Poker Points boost at the beginning of each new month. There are a total of 6 different VIP levels available: Bronze, Silver, Gold, Platinum, Titanium, and Diamond.
Depending on your VIP level you will see an increase of your loyalty points from 0% to 120%. You will be assigned a VIP level based on your average amount of Titan Poker Points earned over the previous three months that you've played.
All players, independent of the VIP level, earn the same amount of loyalty points while playing online poker at Titan. In the right column of this page you can find the points distribution for cash games, while every generated $1 in fee accumulated at tournaments will get you 17 Titan Poker Points.
Would you like to get an additional bonus, which is even instant, then you are advised to use an alternative Titan Poker code, which you can find by visiting the link.