BestPoker VIP Club
Giorgio | Netherlands | Tuesday August 10 2010, 11:21 | 0 Comments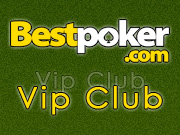 BestPoker is quick to point out that it aims to treat every last one of its players as a Very Important Player, it also maintains a VIP Club full of incentives for loyal and regular play at the site.
The BestPoker VIP Club is broken down into 3 different sections:
the Players Club
the Gold Club
the Platinum Club
Members of the BestPoker Players Club get live chat, phone, and email support; entry to exclusive freeroll tournaments; the opportunity for reload bonuses on subsequent deposits after your first; monthly VIP challenges with bonus prizes; and access to the VIP shop full of BestPoker gear.
Members of the BestPoker Gold Club receive everything listed above, plus entries to VIP Gold Tournaments and Gold Club Freerolls; personal invitations to VIP events; a one-time coupon for a free BestPoker t-shirt from the VIP store; and a 10% discount off all items purchased at the VIP store.
Members of the BestPoker Platinum Club receive all the benefits previously mentioned plus exclusive VIP concierge service while playing at the site; and a 20% discount off all items purchased at the BestPoker VIP Club Store. They also have exclusive access to the Platinum Anything Policy, which allows Platinum Club members to use their VIP points for anything at all on the site.
All this having been said, BestPoker has announced that they are in the process of revamping the VIP Club and we can only assume it will be for the better. So if the above rewards and benefits are what the BestPoker VIP Club... or Clubs, more like it, offer now, imagine what they'll be like after the overhaul.
BestPoker does assure its current players that when the changes are made, players will remain at the same VIP status level as they were immediately preceding the changeover.
No comments have been submitted thus far.