Enter Titan Poker APT Manila Super Satellites
Enter Titan Poker APT Manila Super Satellites
Giorgio | Netherlands | Tuesday June 22 2010, 10:25 | 0 Comments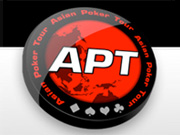 APT Manilla 2010


When this year's Asian Poker Tour makes its stop in Manila, it will be carrying a $1 million prize pool, and in attendance will be several players who won their seat in the event at Titan Poker.
Titan Poker is offering APT Manila Super Satellites on Saturdays starting June 21 with direct buy-ins of $200 + $15 (through Satellite structure A) and on Thursdays starting June 24 with direct buy-ins of $80 + $8 (through Satellite structure B). Satellites into these Super Satellites run throughout each week of the promotion for buy-ins starting as low as thirty-three cents.
There are several qualification structures for players to choose from.
Structure A begins on June 21, with its first Super Satellite on Saturday, June 26 and its last Super Satellite on Saturday, August 14. SNG stage 1 satellites into these events go for $43 + $4 for 5-player tournaments and $21.50 + $2 for 10-player tournaments. Additionally, four different Stage 1 Satellite MTTs are scheduled daily with buy-ins ranging from $8 + $0.80 to $40 + $4. All of these Stage 1 MTT Satellites are Turbo R/A events (rebuy/addon) except for the $44 Freezeout.
Structure B satellites start on June 24 with the first Super Satellites happening on Thursday July 1 and the last happening on Thursday, August 12. Its schedule has the same amount of ongoing SNG Stage 1 events and daily MTT Stage 1 Satellites (though Structure A has an additional Saturday Stage 1 Satellite that Structure B does not). The other differences are mostly in the buy-ins, structures, and occasionally in the addition of a cash consolation prize for second place finishers in the SNGs. The structure for the Structure B APT Manila Super Satellites are rebuy/addon events.
Each $5,500 APT Manila prize package Titan Poker awards includes not only the buy-in to the main event, a 6 night stay at the Manila Marriott Hotel, and as much as $2,000 for travel and expenses.
https://www.pokerbonushelp.com/en/online-poker-sites/titan-poker/Titan Poker Review and Bonus Details[/url]
No comments have been submitted thus far.